The sun – the heart of our solar system, the lifeforce behind all existence on Earth, and, let's not forget, the best natural source of Vitamin D. But it's also an abundant dispenser of potentially harmful UV rays. Enter sunscreen: our trusty summertime companion. However, not all sunscreens are created equal. As consumers, it's time we faced the sun with non-toxic, reef-safe sunscreen brands that are kind to our skin and gentle on our environment.
First things first, what exactly is non-toxic, reef-safe sunscreen? Simply put, it's sunscreen that doesn't contain chemicals harmful to our bodies or the environment, particularly our delicate coral reefs. A growing number of sunscreen brands now shun ingredients like oxybenzone and octinoxate, which, according to research, can contribute to coral bleaching, disrupt marine life, and even mimic hormones in our bodies.
In lieu of these harmful chemicals, non-toxic, reef-safe sunscreens use mineral-based active ingredients like Zinc Oxide or Non-Nano Zinc Oxide. While providing effective sun protection, these ingredients are much kinder to both our skin and the environment. It's a win-win.
Now that we know what we're looking for, let's dive into some of the standout brands creating exceptional, eco-friendly sun protection products.
This day cream smells like a gentle rose breeze. It contains reef-safe zinc oxide that is a mineral sun shield for your skin. It is lightweight, non-greasy and will leave zero white cast. What makes it even better? Sun Mylk also contains hyaluronic acid and niacinamide (B3), two anti-aging powerhouses that draw hydration to the skin and fight fine lines. This dream cream has it all!
SALT & STONE 
With their straightforward, minimalistic design and broad-spectrum SPF 30 sunscreen, Salt & Stone focuses on simple, organic ingredients and sustainability. This Californian brand's products are antioxidant-rich and water-resistant for up to 80 minutes, offering sun protection that works as hard as you do.
This deeply hydrating daily solar resilience ritual will support your skin during everyday sun exposure with its highly concentrated herbal-infused oil blend. Allowing your skin to absorb Vitamin D while fortifying your skin with key nutrients necessary for a healthy and beautiful complexion. Our active solar ingredient, sheer non-nano zinc, provides protection from harsh UVA, UVB, and blue light wavelengths without causing inflammation or damage to DNA.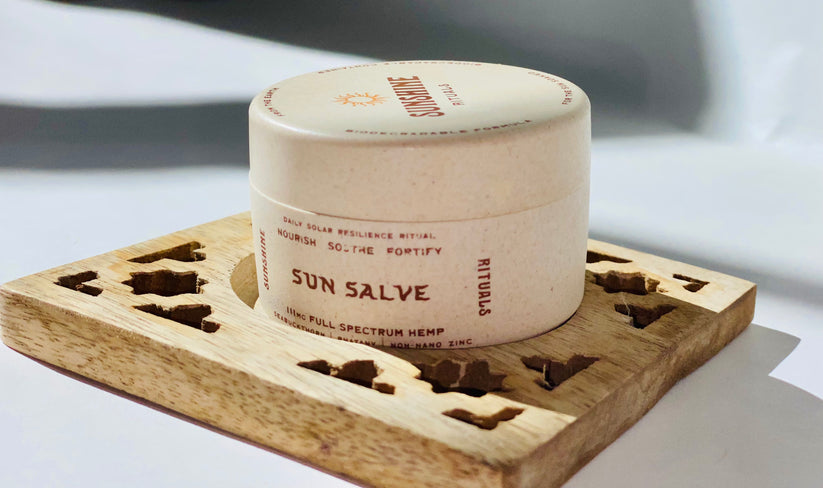 RAW ELEMENTS 
Offering an impressive line of non-toxic, eco-friendly sunscreens, Raw Elements is another brand worthy of your beach bag. Their Non-Nano Zinc Oxide sunscreens come in a variety of formulations, including face + body, tinted, and even a baby + kids version.
BADGER 
A family-owned, family-run business, Badger creates sunscreens that are as kind to your wallet as they are to your skin. Known for their organic plant oils, beeswax, and non-nano mineral, Badger's sunscreen range is biodegradable and safe for coral reefs, making it a top choice for eco-conscious consumers.
ALL GOOD
This was my personal introduction to non-toxic sunscreens, and it remains a favorite. From their Sport Sunscreen Butter to the Kids' Sunscreen Butter Stick, All Good offers a broad range of eco-friendly sun protection products. But be prepared: their sunscreen may leave a slight white cast.
CLEAR STEM
If breakouts are your concern, Clear Stem's non-pore-clogging sunscreen should be on your radar. They provide products with all non-pore clogging ingredients, which are perfect for those with sensitive skin.
doTERRA
A new entrant to the sunscreen scene, doTERRA's non-toxic sunscreen is making waves. Although it's early days, the positive buzz around this product is undeniable. 
Doing Your Bit for the Planet
It's essential to understand that the choices we make, no matter how small they may seem, can have a profound impact on our environment. By choosing non-toxic, reef-safe sunscreens, we're not only protecting our skin from harmful UV rays but also safeguarding our oceans and the diverse life they support.
While shopping for sunscreen, remember that not all "reef-safe" labels are created equal. Some brands might label their products as 'reef-safe' as a marketing strategy, even though they may still contain harmful chemicals that can damage marine ecosystems. It's crucial to do your research and look beyond the label.
Additional Considerations: Application and Efficacy
It's not just about choosing the right sunscreen. Applying it correctly and adequately is equally vital. Most people don't use enough sunscreen, which considerably reduces its effectiveness. A good rule of thumb is to use a shot glass worth of sunscreen for the entire body and reapply every two hours or immediately after swimming or heavy sweating. Remember, no sunscreen offers 100% protection. The American Academy of Dermatology recommends always seeking shade and wearing protective clothing along with applying sunscreen.
While mineral sunscreens can leave a white cast on the skin, it's a small price to pay for protecting our planet. Some brands offer tinted versions of their products, and others are working on formulations that blend more seamlessly into the skin.
Embracing the Future of Sun Protection
It's heartening to see so many brands stepping up and offering sun protection that cares for both our skin and the environment. However, change isn't just down to manufacturers. As consumers, we can drive demand for more responsible products and show that we value both our health and the health of our planet.
As we move forward, it's essential to encourage innovation in sun protection and champion those who are leading the way. Research into improving the formulation of mineral sunscreens and exploring novel, eco-friendly UV filters will play a crucial role in the future of sun protection.
Switching to non-toxic, reef-safe sunscreen is a significant step towards a more sustainable lifestyle. It offers a way to enjoy the sun responsibly, without compromising our health or the health of our oceans. It's about making conscious choices, understanding the impact of these choices, and realizing that every little bit helps.
Non-toxic, reef-safe sunscreens are more than just a trend. They represent a shift in attitude towards ourselves and the world we inhabit. They're about appreciating and respecting all life, above and below the water. As we bask in the sun's warmth, let's ensure we're doing so responsibly, with gratitude for the natural world and commitment to its protection.
In the end, embracing non-toxic, reef-safe sunscreens isn't just a personal win—it's a victory for our planet. So, next time you're packing for a day at the beach or a hike in the sunshine, take a moment to consider what's in your sunscreen. It might be a small step, but it's a step in the right direction.