Have you noticed the undeniable impact of the global fashion industry on our precious environment? A big contributor to this is the toxic trail left by the high carbon footprint, excessive water consumption, and rampant landfill additions of the apparel industry, which has gained a notorious reputation as an environmental antagonist.
Fortunately, the rising tide of awareness and active advocacy is causing a paradigm shift in the fashion world. A host of brands, both established names and emerging labels, are awakening to the importance of embracing sustainability. Footwear, once notorious for its exploitative use of both human and natural resources, is now stepping up to the sustainability challenge. The focus is on utilizing eco-friendly materials, curbing overproduction to minimize waste, and upholding fair labor practices.
However, there's still a glaring disconnect between our ethical values and our purchasing behaviors, particularly evident in our choice of shoes. Too many of us continue to support brands that manufacture shoes under hazardous working conditions or even forced labor. The time has come to question this status quo and demand better - not just for our planet and its people, but for ourselves as well.
Isn't it high time that our footwear reflected our commitment to ethical practices and environmental sustainability?
That's why we've compiled this diverse list of eco-friendly men's footwear that meets not only your style expectations but also aligns with your values for environmental sustainability and social responsibility. These ethical shoe brands have made a mark with their unwavering commitment to creating high-quality, stylish footwear while prioritizing sustainable practices, fair trade principles, and workers' welfare.
So, whether you're on the lookout for eco-friendly sneakers for your next night out, or searching for sustainable loafers for casual work days, this curated list of ethical footwear brands promises a variety of choices. Let's take a step forward into a future where fashion and environmental responsibility stride together, making every step count towards a more sustainable world.
Today, we're sharing some fantastic finds in the realm of Verte Mode's sustainable footwear, all from brands that practice fair trade, ensure decent wages, benefits, and safe work conditions. We've got you covered, whether you're looking for cool kicks for the club or comfy loafers for casual Fridays.
1. Vegan Leather Capri Sandals in Charcoal Black – Verte Mode
Two strap sandals for a free-spirited woman who loves to keep the comfort on her peeping toes when she goes for a long walk. Slip-on style with double wide-cut straps. Open toe and slim sole made with eco-friendly insole materials. Crafted from innovative and sustainable textile - Piñatex.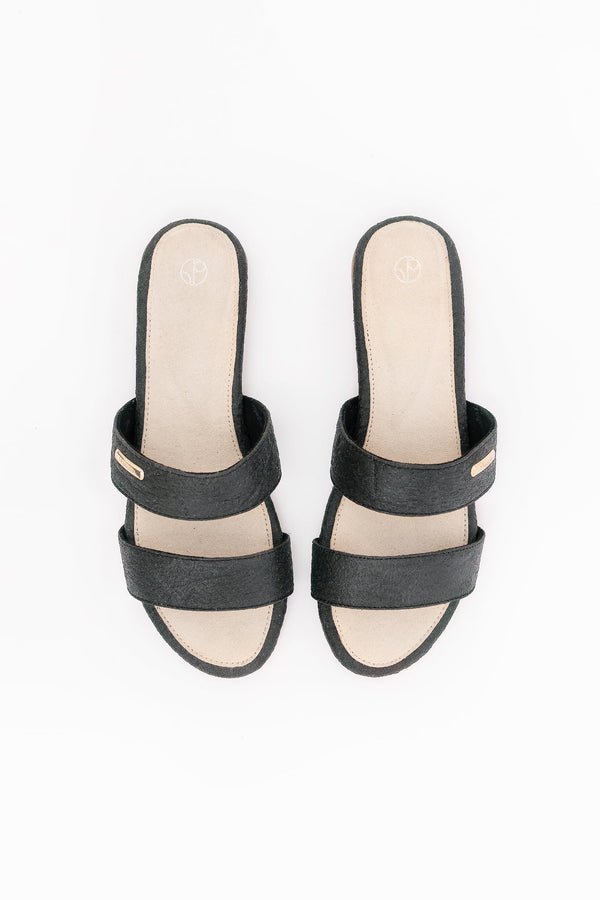 2. Handmade Upcycled Leather Cross Sandal - Sapphire Blue – Verte Mode
This sandal is a fun summer shoe for anyone looking to add a pop of color to their wardrobe. Pair with matching accessories to create a head-turning, one-of-a-kind look. Our apparel is hand-embroidered by women in the West Bank who have historically suffered economic hardship. As a Fair-Trade certified product, we offer fair wages and job opportunities. 
3. Plant-Based Recycled Vegan Women's Blush House Sandals | Verte Mode
House Sandals are stylish with a touch of cozy and provide the arch support you need for those hardwood and tile floors. Keeping you comfortable while being breathable, these are the perfect open-toe slippers. Made from premium, plant-based & recycled materials like apple leather, recycled rubber soles, organic cotton lining, and cork + recycled foam insoles.
 4. Vegas Suede High Heels in Ruby Red – Verte Mode
GRS certified Eco Suede - softer than suede and made from post-industrial recycled plastics. Zahonero comfort Insole and recyclable thermo rubber compound for the soles. Made with recycled brass logo on the front strap.
5. Vegan Material Ankle Strap Heels in Brown – Verte Mode
Ankle Strap Platform Heels for a Sophisticated Look in Every Occasion
Ankle strap block heels made for a woman who wants to invigorate the sophisticated look in many occasions, be it at a wedding, at work or during outdoor brunch. 3 cm block heels made from ethically harvested teak wood & treated with tung oil.
 6. Portonovi VEGEA Slippers in Oyster Black – Verte Mode
Up to 15% of waste is observed during mass production. We have turned leftover insoles from post-industrial waste into our elegant Portonovi sandals that are perfect for your summer strolls. We currently only offer limited supply of these post-industrial insoles. Wear super sleek slip-on sandals that have been upcycled and revived for lifestyle.
7. Sustainable Plant-Based Women's Blue Grey House Mules | Verte Mode
The Blue Grey House Mules are ready for everything you do at home. Chic style with supportive insoles and sneaker-like soles. Effortlessly dress them up or down for wherever the day takes you at home. Made from premium, plant-based & recycled materials like apple leather, sugarcane soles, recycled plastic lining and cork insoles.
8. Zero Waste Espagne Leather -V-MOSTAZA – Verte Mode
A classic athletic silhouette, is defined by its simple details. Timeless sneaker. Effortless style. Everyday versatility. This pair show off a fresh all white colour way featuring suede. The upper is made from Espagne leather and suede with a lining responsibly produced using corn waste and post-consumer recycled polyester as part of our commitment to reduce waste.
9. Borås - Grape Leather Classic Sneakers - Oyster – Verte Mode
Meet the classic everyday sneakers with a clean, minimal finish. Made with the innovative biomaterial VEGEA, and handmade plant-based outsole. VEGEA is made from 100% organic cotton that is coated with bio compounds from post-wine-making waste. These sneakers are made with people and planet in mind, stylish and versatile for the conscious woman to flaunt. Ultra-comfortable and durable to be worn season after season.
10. Salvas White Leather/Rose Sustainable Sneaker - Women's – Verte Mode 
Handcrafted with leather from LWG Gold-Rated suppliers, SALVAS is a timeless sneaker designed to look and feel even better with age. Upper made from premium leather sourced from LWG-certified Gold Rated tanneries. Lining is made from recycled mesh lining. Sole is100% slip-resistant, natural rubber. Insole is removable, cork + bio-based foam (from mamona oil). Laces are made with recycled plastics + organic cotton, with debossed metal aglets. Overall construction is handmade vulcanized sneaker; fully stitched outsole.
As we step towards a more sustainable future, remember that every purchase makes a difference. By opting for eco-friendly and ethical footwear, you're not only stepping out in style, but also taking a stride towards better working conditions, reduced environmental impact, and a more responsible fashion industry. So let's put our best foot forward together and make choices that both look good and do good. Stay tuned for more insights into sustainable fashion, and don't forget to share these remarkable brands with your friends and family. Every step counts in this journey towards a more sustainable future. Thanks for walking this path with us!