We all know that the latest buzz is that beeswax candles are the best candles to have around your home or in any space that you occupy. Beeswax candles burn cleanly and have no added fragrances or colorings.
They have zero chemical compounds and because they are all natural, no toxic byproducts are released in the environment. 
They neutralize odors, are environmentally friendly and have a longer burn time. Here at Verte Mode , we embrace all things eco-friendly and beeswax candles are on our list of must haves. We have carefully curated the top 10 best beeswax candles that we could find and we hope that you will find it helpful when choosing the right candles for your home and space. 
Busy Bees Candle Company- Busy Bees candles are 100% pure locally sourced beeswax. Its steady flame radiates "a spectrum of light similar to that of the sun." It's like having the sun right in your living room even if it's cloudy outside.  Each box comes with 10 mini candles and they are free of toxins, burn clean, and soot free. The burn time is about 4-5 hours per candle.
Verte Mode
 Sustainability Review: 6/6
100% pure locally sourced beeswax.
Each purchase of these candles, you are supporting the American beekeepers

It's hypoallergenic, has a natural earthy scent and that sweet smell of honey.
These natural beeswax candles are made in America by bees busy flying about in Texas. It has 12-15 hours of burn time.  The cotton wick coupled with the wax formula gives you that optimized burn time which reduces soot build up.  Did we mention that it has a naturally sweet aroma? Now that is some sweet smelling candles! 
Verte Mode
 Sustainability Review: 6/6
Come from premier suppliers in the USA
the beeswax is 100% from Texas beekeepers continuing on a family legacy of beekeeping.
We love the fact that the company supports small businesses. 
 Hyoola's humble beginnings began just after World War 11.  Their beeswax candles were delivered to the families residing in the old Williamsburg neighborhood in Brooklyn with a small card attached that read "Enclosed is a havdalah candle made from beeswax as well as eight Chanukah candles made from beeswax. If you please, I ask you to send as much as you can afford to pay." To this day, this family owned business is committed to giving their customers the best selection of products at the highest quality. They believe in bringing joy and warmth to homes all around the world.  
Verte Mode
 Sustainability Review: 6/6
100% all natural pure beeswax candles
We love the rich history and its humble beginnings. 
These designer inspired beeswax candles will not only have your room smelling wonderful but the on-trend, earthy, natural tones will compliment the decor of any living space. They also feature fragrance of the month and for the month of March, the spotlight is on Lavender Vanilla. 
Verte Mode
 Sustainability Review: 6/6
Root candles are rooted with over 150 years of craftsmanship.
They also created special safety-wicks and draft proofing to minimize the dripping of hot wax. 
The recycled glass made in Spain is filled with pure raw beeswax filtered to give you the best possible burn. It has three wicks which makes it look captivating when lit. 
Verte Mode
 Sustainability Review: 6/6
 The non-toxic, lead-free, and the no lead or metal cotton wick is something that we can all be lit about!

We are loving the custom refills that are available in Pure Beeswax and Aromatherapy Beeswax.
I love the creativity behind this brand's name! Besides, the unique name Mind Your Beeswax crafts luxury candles with personality and passion. These one of a kind fragrances can not be found anywhere else and only use the finest and most natural ingredients. Go light up one of their candles and relax in warm luxury!
Verte Mode
 Sustainability Review: 5/6
They have one of a kind fragrances that are made of natural ingredients yet provide luxury for everyone's homes. 
These candles are made out of 100% natural beeswax and are handmade to perfection to have in your home. The beeswax is locally sourced from a family owned apiary in the United States and each candle releases a subtle honey smell. They even offer essential oil infused candles if you want something a little extra!
Verte Mode
 Sustainability Review: 5/6
They locally source their beeswax from a local farm in the U.S. and are naturally handmade.
Bluecorn offers multiple beeswax candle scents for everyone to enjoy like lavender, cinnamon, lemongrass, rosemary, and many more. These candles are made with 100% beeswax and pure essential oils that blend seamlessly with the beeswax to create the perfect scent. They are also paraffin free, non toxic, and hypoallergenic. 
Verte Mode
 Sustainability Review: 5/6
100% natural beeswax and essential oils.
No harmful ingredients within their candles

Made in small batches.
This uniquely shaped beeswax candle has a natural honey scent and is handcrafted. The beeswax comes from Texas bees as well.
Verte Mode
 Sustainability Review: 5/6
Candles are handcrafted and sourced from a bee farm in Texas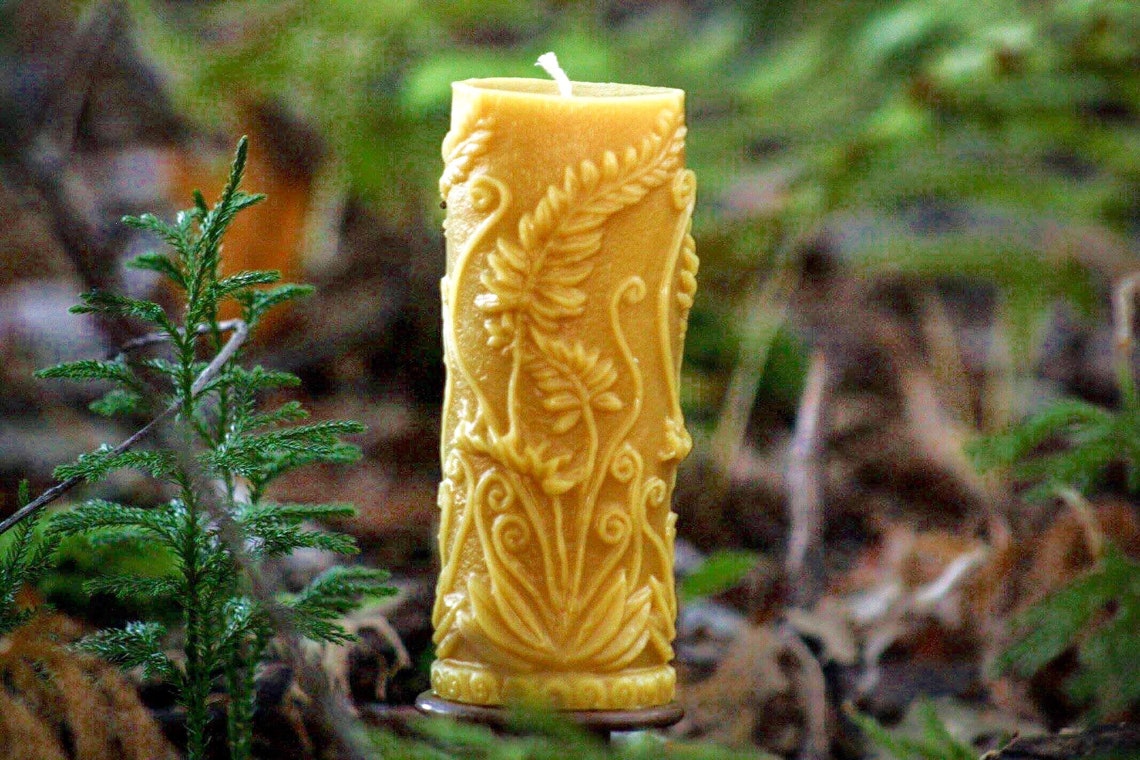 These candles are one of the most beautiful designs I have ever seen on a candle! The company provides eco friendly packaging upon request and each candle is handcrafted to match the customers needs. They contain only 100% pure beeswax and a cotton wick, no lead or metal. 
Verte Mode
 Sustainability Review: 6/6
They produce everything in small batches.
 Eco-friendly packing.
Handcrafted and do not contain harmful substances.
About Us
At Verte Mode & Magazine, our mission is to empower customers with the ability to make informed, sustainable choices. We provide a trusted eCommerce platform for purchasing products and services that are not only safe and cruelty-free, but also meet high standards for sustainability.
To ensure that you can shop with confidence, we evaluate brands using six comprehensive metrics, drawing from verified sources and presenting the information in an easy-to-understand rating system, complete with icons indicating a product's sustainability attributes.
Our standards cover everything from sustainable materials and fair labor practices, to safe ingredients and environmentally-friendly packaging. Brands that truly stand out for their sustainable attributes will be honored with additional recognition on our platform. Shop with Verte Mode, and make a positive impact on the world with every purchase.
Imagine the difference we can make if we all shopped & lived a little greener?