Let's chat travel! With summer in full-swing and everyone in their vacation and travel era, Verte Mode has got you covered with your travel must-haves. These essentials are not only eco-friendly, but they also have little to no environmental impact. Whether it's through their natural ingredients or zero-waste packaging, we're confident you'll find what you need for your journey. 
13 Eco-Friendly Travel Essentials That Are A Must:
Activist Skincare Refillable Trial & Travel Kit
The Activist Skincare Travel Kit is designed to last you 2-4 weeks of daily use. Not only are the products 100% refillable but you get a ton of skincare goodies including 3 cleansers, 1 toning mist, 2 serums, and 1 face oil.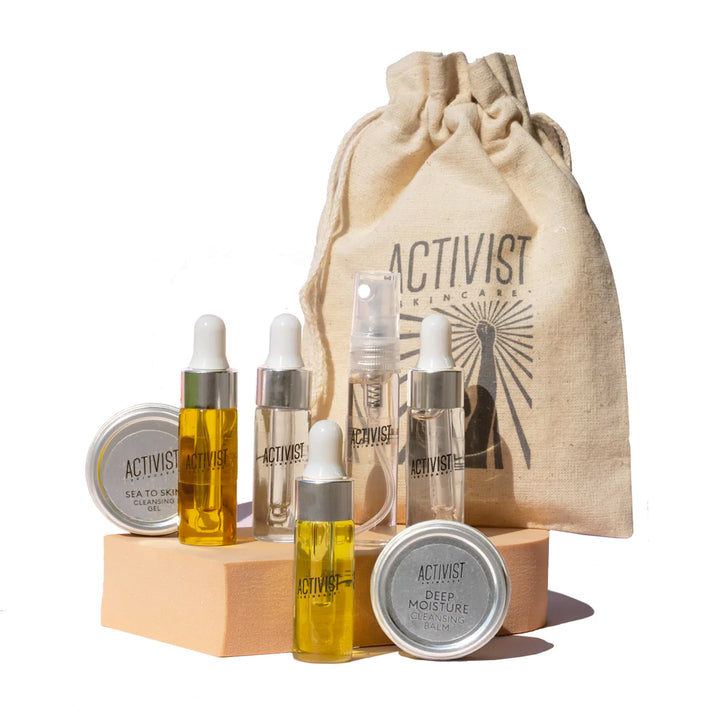 Lizush Lavender Bath And Body Travel Gift Set
Whether you're looking for a convenient travel set or a gift for a loved one, you'll be sure to love the beautiful travel lavender bath and body gift set by Lizush. This cute lavender set includes an eco-friendly cosmetic bag, an eye mask, a soap bar, shea butter, and natural lip balm.
Terra Thread Aarde Eco friendly Gym Bag – Verte Mode
Made from organic fair-trade cotton the Terra Thread durable and versatile duffle bag is perfect for any getaway or gym sesh. With four colors to choose from, you'll be sure to travel in style while supporting the planet.  
Bagito Reusable Bamboo Cutlery Travel Set 
The cutlery travel set is made from 100% bamboo and includes a fork, spoon, knife, and chopsticks in a durable rPet fabric pouch that protects against bacteria. Aside from limiting single-use plastic, your also supporting environmental literacy for students k-12.
Upcycled Leather - Not Just a Traveler's Wallet Cognac Check – Verte Mode
Made with upcycled leather, the Hyer Goods wallet is a spacious wallet featuring 7 card slots and 2 cash pockets, giving you enough room for all things. 
Anjum Khan Sustainable Organic Alvyia Natural Lounge Set 
Elevate your cozy game with the Anjum Khan high-quality loungewear that offers comfort and style in equal measure. It's made from 100% organic cotton for a breathable and comfortable fit.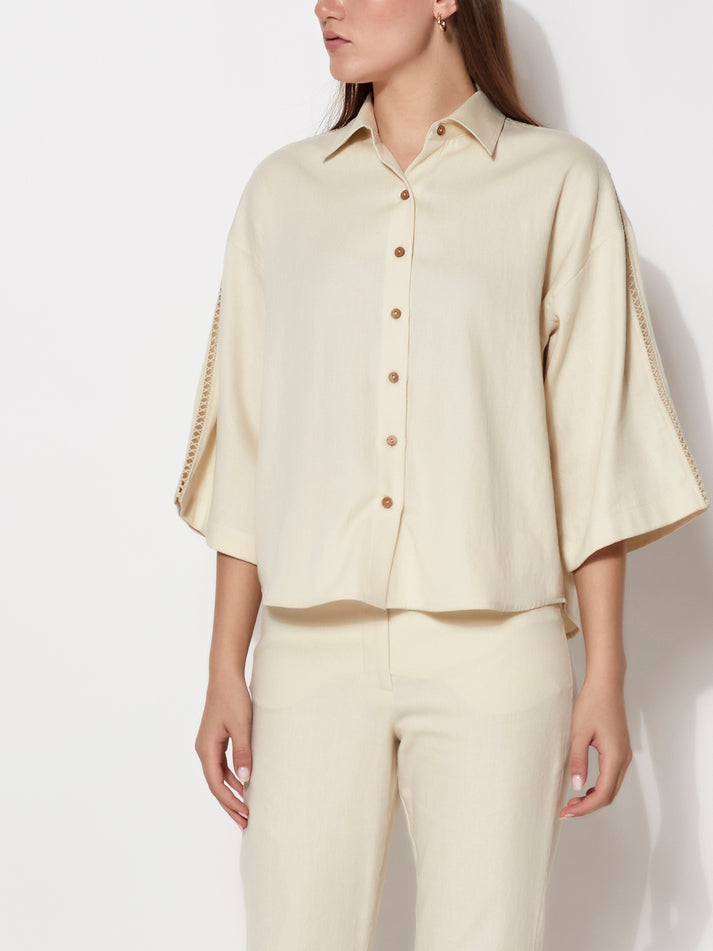 Verte Mode Smart Self-Cleaning Water Bottle - 16oz 
The Smart Self-Cleaning Water Bottle provides a full day of hydration with a temperature display and hydration reminder. Other features include a USB rechargeable, an inductive lid and overall sustainable design that ensures convenience and eco-friendly functionality. 
Verte Mode Reusable Glass Coffee Cup With Cork Band 
Sip your morning coffee or tea using our reusable glass cup, the perfect on-the-go cup to accompany you wherever you go. The single-wall, tempered-glass construction and cork band provide a secure, comfortable grip, even when the drink is very hot, while the silicone push-on lid helps reduce spillage with a small opening for sipping.
Sunshine Rituals Soothing Daily Sun Salve
Make your skincare ritual even more special with the Soothing Daily Sun Salve by Sunshine Rituals. Made to nourish, soothe, and fortify skin - you get the ultimate protection and amazing benefits your skin needs that also comes in a plant-based jar!
Nicely Natural Deodorant Mixed Scent Set - Ambrette Rose Cedarwood & Oakmoss Cypress Rose
Nicely Natural Deodorants is one of our favorite eco-friendly options, made with clean and organic ingredients, with vegan formula that is not likely to cause irritation. Instead of blocking your pores, this aluminum free deodorant is gentle on your skin and also keeps your underarms nice and moisturized. 
Dunsel's Sailbags The Dopp Kit 
Made from upcycled sailboat sails and textile waste, this is the next and last toiletry kit you'll ever need. The Dopp Kit has an outer shell made from the same repurposed "Dacron" material recovered from the mainsails of old sailboats, and an inner lining made from fabric scraps. Convenient, stylish, and eco-friendly, a true travel must have!
These handmade, slide-on sneakers are perfect for life's daily adventures. Due to the leather construction of this style, you can expect a minimal break-in period before the shoes stretch slightly and mold to the shape of your feet - being ultra comfortable and stylish, what more could you ask for.
Darzah Fair Trade Upcycled Fabric Market Tote - Cream
The Fabric Market Tote is a fantastic everyday bag that can be used for school, work, or travel. Darzah offers ethical handmade goods from artisans in Palestine, made out of upcycled and by-product materials just like the Fabric Market Tote. 
SWZLE Reusable Stainless Steel Straws- Spanish Gold Marble
Time to ditch the plastic straws and opt for reusable straws such as the Stainless Steel Straws from SWZLE. Each SWZLE pack contains two BPA free stainless steel straws and a cleaning brush inside a sleek case that you won't find anywhere else. 
1 PEOPLE Byron Bay One-Piece Swimsuit In Seaweed Green 
Take a dip in the pool with the one and only Byron Bay One-Piece Swimsuit. Made from recycled material, this soft and light fabric one-piece provides UV protection, providing your skin with adequate protection from ultraviolet radiation. 
So, whether you're embarking on a weekend getaway or much needed vacay, Verte Mode ensures that your travel experiences are not only stylish but also sustainable. Our commitment to eco-friendly essentials means you can explore the world with a lighter footprint. Travel beautifully and responsibly with Verte Mode by your side.