Self-care is much more than just treating yourself to your favorite drink or splurging on your favorite pair of shoes, it's about utilizing products that cater to your body's needs and also contribute to a sustainable and eco-friendly lifestyle. In recent years, eco-friendly deodorants have become quite popular, highlighting their crucial role in the realm of self-care. Lucky for you, Verte Mode has done the research so you don't have to and is thrilled to share some of our top selections of the finest eco-friendly deodorants that not only prioritize your well-being but also contribute to the well-being of our planet!
The Rise of Non-Toxic Deodorant
Let's take a step back and have a chat about why the need for eco-friendly alternatives is as crucial as ever. So many everyday products and household items nowadays contain toxic chemicals and non-biodegradable packaging that isn't good for us or our planet. Eco-friendly deodorant for that matter has marked a recent shift in consumer preference. As many have become more aware of the impact of our choices on the environment and personal well-being, the demand for sustainable and non-toxic deodorant options has become more popular. Conventional deodorants contain harsh ingredients such aluminum and parabens that can be a health risk for us down the line. And if your curious about which eco-friendly deodorant is right for you, take a look below for some of our favorite and bestselling deodorants that are not only effective but will have you smelling fresh!
8 Non-Toxic Deodorants That Are Right For You:
Nicely Natural Deodorant - Lemon Tangerine Cardamom
Nicely Natural Deodorant is the perfect unisex scent, offering a fresh and energizing blend of citrusy aromas. This safe, gentle, and effective deodorant offers 24-hour protection with seven active ingredients to absorb moisture and neutralize odor-causing bacteria's.
J&L NATURALS  Aluminum-Free Deodorant
J&L Naturals is the ultimate confident booster. Packed with antioxidants, natural disinfectants, and antibacterial properties. Let those underarms breathe and stay fresh all day with absolutely no stinging feeling or synthetic smelling fragrances. This deodorant is good for all skin types and actually leaves you with silky soft skin.
Live Like You Green It Grapefruit + Geranium Natural Deodorant 
Live Like You Green offers vibrant smelling deodorants that are free from aluminum, baking soda, parabens, and plastic. You get the best quality ingredients that are both vegan and non-toxic including shea butter, shea nut oil, and essential oils. 
31ST STATE  Men's Roll-On Vegan Deodorant 
For all the fellas out there, 31st State is a gel deodorant that is not only light-weight but also fights unwanted body odor. Made from plants and minerals, this deodorant makes it easy for you to go do your thing and have all day protection.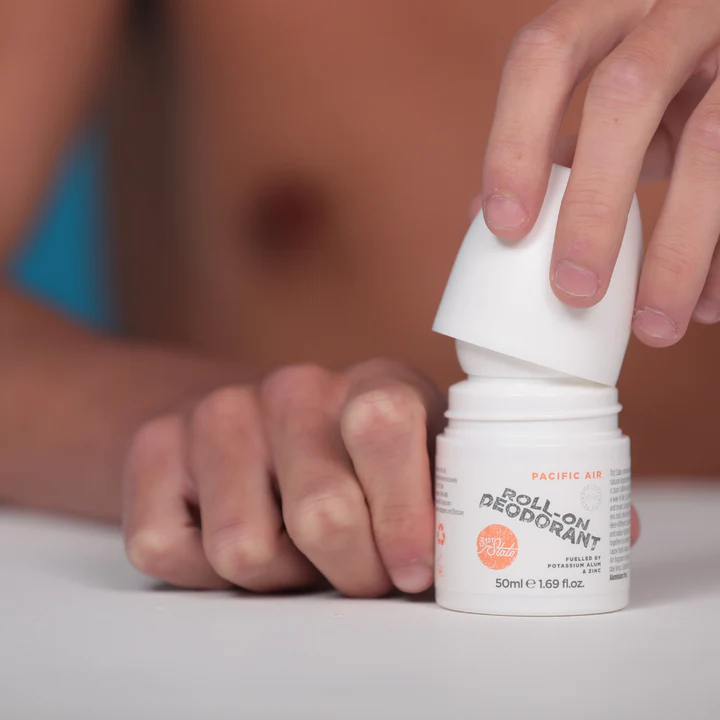 LIVE LIKE YOU GREEN IT  Live Like You Green It Yuzu + Lemongrass Natural Deodorant 
The lemongrass natural deodorant embodies a warm, inviting, sultry, and cozily familiar fragrance. This gender neutral deodorant is made out of some of the highest quality ingredients that are also organic.
Nicely Natural Deodorant - Ambrette Rose Cedarwood: 
Another one of our Nicely Natural Deodorant in the scent Ambretter Rose Cedarwood is the perfect mix of floral nuances, tobacco, and warm cedar wood tones. Instead of blocking your pores, this aluminum free deodorant is gentle on your skin and also keeps your underarms nice and moisturized. 
Nicely Natural Deodorant - Tea Tree Lemongrass Vanilla: 
Nicely Natural Deodorants is one of our favorite eco-friendly options, made with clean and organic ingredients, with vegan formula that is not likely to cause irritation. Looking for simple yet effective option, their lemongrass vanilla deodorant is a morning fresh scent with delicate notes of vanilla.
Nicely Natural Deodorant - Unscented: 
Unscented is the perfect option for those who prefer to leave no trace behind - truly a deodorant that works for everybody. All of Nicely Natural Deodorants are non-staining so you don't have to worry about ruining your favorite clothes
Next time you reach for a deodorant, consider an eco-friendly option that not only offers a fresh solution to odor control but also represents a step towards a greener and more conscious lifestyle. Together, let's embrace a fresh and green approach to self-care and make a difference in the world, one deodorant at a time.